The Shops of Fan Expo Dallas 2018
This post may contain affiliate links. Please read my privacy policy.
Of course Fan Expo Dallas is only a couple of days away and you may be wondering what types of shops they'll have or what shops to check out! Comic collectors, Funko fans, Horror fiends, and the nerdiest to the extreme here is your guide to the Shops of Fan Expo Dallas.
Also, remember there's tons of other great vendors who carry tons of amazing crafted items! Fan Expo Dallas news was recently announced that Ben Affleck will be at Fan Expo Dallas on Saturday only! Which is also when I'll be there!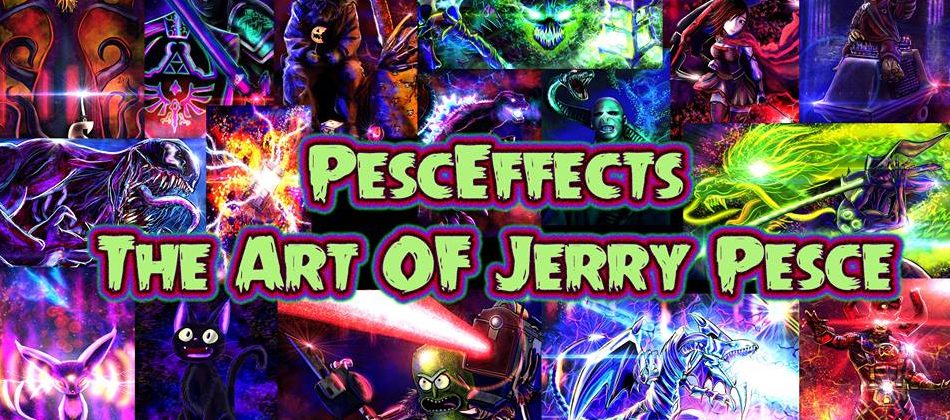 PescEffects
The Art of Jerry Pesce is just one of the recurring art vendors. Though the artist, Jerry Pesce, is just one of the best artist on the comic con scene. I mean the cult classics, animes, and other amazing nerdy stuff he creates. I've personally have picked up some awesome book-markers from them.
I've got Carnage, Pinhead, The Alien Queen, Slytherin Symbol, The Iron Giant, Boba Fett, and Stitch! Additionally, all of their artwork prints, trading cards, and bookmarkers are all made of metal. They look killer with a black-light too! PescEffects will be at Booth 441.
In My Parent's Basement
In My Parent's Basement is an amazing tee shirt vendor who started out small in a spare bedroom and gravitated to Comic Cons and Internet venues. Tons of quality shirts for a solid grand price. I've grabbed up two really awesome horror shirts from them at Dallas Fan Days. The 1978 Halloween poster shirt and the 1974 Texas Chain Saw Massacre shirt are apart of my collection.
Of course, my mother grabbed some from them at 2017's Fan Expo Dallas. She got several Groot (Guardians of the Galaxy) shirts for my father. If you are looking for a great quality shirt, deal, and awesome graphics then you've got to hit them up. In My Parents Basement will be at Booth 224.
Ink Whiskey Entertainment Flask
Now, here's one I haven't gotten anything from but I like their designs of video game flasks and this awesome gun bottle opener. They've got clever artwork designs for the flasks. Matt Cornell, the founder and inventor of the Ink Whiskey Entertainment Flask.
He is always inventing new products. The nostalgic feel I get from these is amazing. Specially, as someone who was raised on these classic video games, I absolutely love the whole concept. So, if you like videos games, parodies, and booze then this is for you! Ink Whiskey will be at Booth 539.
Game Over VideoGames
While, we are on the topic of video games. Here's a phenomenal video game vendor who buys and sells everything from Atari to Xbox. Are you looking for a Gameboy Color to rock once again or even looking for a import? Then this is the place for you. I highly recommend starter gamers, pros, and nostalgic gamers to check them out. I know I'll swing by to pick up couple things. Game Over Video Games will be at Booth 338.
JMD Toy Store
If you are looking for tons of awesome action figures, statues, bobbleheads, comic books, and more then you'll need to stop by JMD Toy Store. They got tons of products from Kotobukiya, Sideshow Collectibles, DC Collectibles, Image Comics, Funko, Bif Bang Pow are just to name a few. They also have a new mortar store opened in Riverview, Florida. Now if you live in Florida you get the luck of being around them all the time! JMD will be at Booth 129.

Metalsouls
Here are some A-Class Phenomenal Sculptures and Action Figures by Metalsouls! They create everything from Aliens to Samurais. I'm sure you are wondering how these sculptures are made. Each one of their creations begins with a careful selection from a collection of scrapped motorcycle and car engine parts. They also create handcrafted action figures.
To do this, they studied these shapes and contours then they begin to mold them into their fantastic action figures that they are now. After completion, they are carefully polished and coated with a proper agent to protect them from rusting in the future.
The work is then completed and they will last a life time to be treasured and collected by their fans. What a unique way to help the environment. Metalsouls will be at Booth 356.
Off World Designs
Off World Designs is one of the best shirt vendors if you're looking for cult classics and hilarious designs. They have tons of original shirts for fans of Gaming, Fantasy, Sci-Fi, Geeky Culture, Horror, Anime, and of course Humor. Off World Designs was founded by Raymond VanTilburg.
Originally they sold only Ray's designs but we now have licenses with some of the best artists in Gaming, SF, Comics, Anime and much more. They offer Pre-printed designs, Custom Printing, Embroidery, and Convention Souvenirs. They also have handled souvenir sales for more than 20 conventions per year. Their sizes range from Youth to 5XL! They'll be at Booth 208!

STL Ocarina
Now, if you are a musician, geek, and love history like me then you've got check out STL Ocarina. Of course, the Ocarina is very ancient instrument used all the way back in the 16th century and even before. Though in the 20th century; During the first and second World Wars, servicemen often were provided with a pocket-sized ocarina to boost morals.
However, due to rising interest in the recorder the ocarina soon became unknown to the general public. Then with the release of the popular video game "The Legend of Zelda: Ocarina of Time" in the 1990s, the ocarina has reached a new level of popularity in America and Europe. Now, present day STL Ocarina is producing Ocarinas left and right for novice and professional musicians! They'll be at Booth 442.

Alright, alright, alright! It's time for your update on Fan Expo Dallas Collectibles and Show Exclusives. Everything from comic books, shirts, and Funko pops. Now, let's talk about the Fan Expo Dallas Store.
I am a sucker for a new lanyard every year but they've tons of other amazing things. Of course, they will have hats, computer bags, tote bags, sunglasses, pins, and even shot glasses.
Additionally, if you run out of phone battery and don't have a charger you can always get a USB charger and cord too! If your press this is really a must have.
Furthermore, let's talk about that new Aspen Comics Fan Expo Dallas Exclusive. The exclusive is Portal Bound #1 with a Fan Expo Dallas variant. The exclusive cover is created by Mirka Andolfo and Wes Hartman.
The writing is by Mark Roslan, and Gabe Carrasco with the Interior art by Alex Arizmendi, and Wes Hartman. The Fan Expo Dallas Shop will be located by the entrance near the ticketing hall. Hope to see all of you there!
Pin Me: