This post may contain affiliate links. Please read my privacy policy.
Have I told you how much my daughter loves when I make homemade Chinese food? Yeah it's like our thing to either eat it out or at home. Our schedule this holiday season hasn't allowed for much time to really cook. I am hoping to free up time to make some yummy Frozen cookies and a few really tasty soups. What are you cooking? Or are you just going out to eat? Monday night I decided it was time for some homemade Chinese I was so over the out to eat game. I whipped up (took over an hour) some sweet and sour chicken. It was so darn delicious!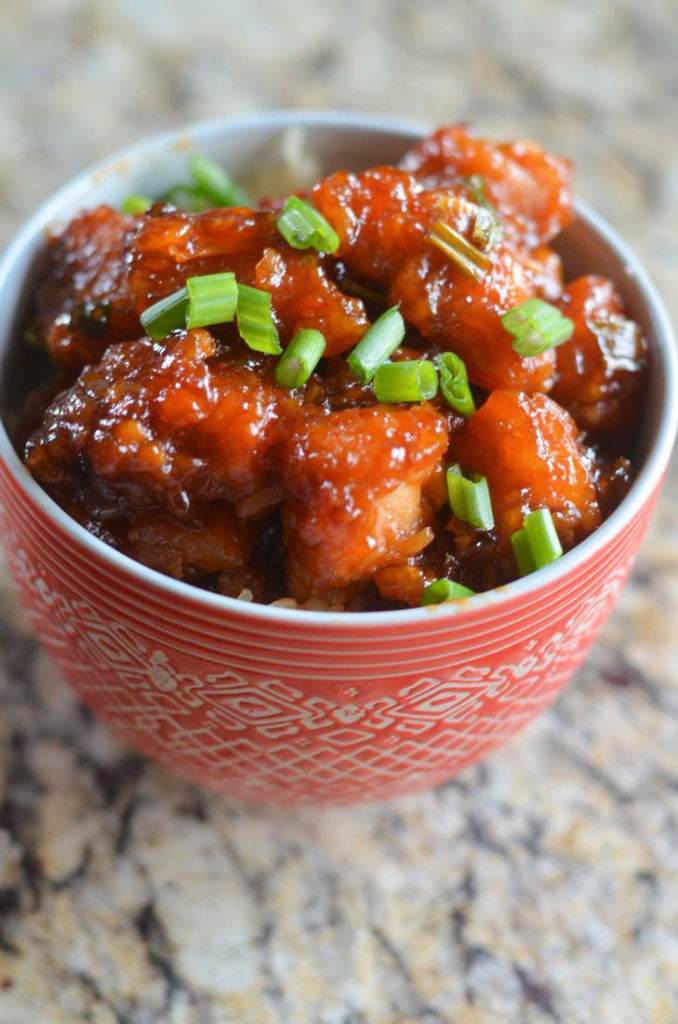 It's something about this time of year that I just crave Chinese food. I think it's because when I was younger my grandparents would shop and then we would stop by Chuck's Chinese and American food. It was just around the corner from where I grew up.
I remember playing in the kitchen. The bowls decorated with the blue designs and the cool soup spoons that were definitely like the soup spoons we had at home. The atmosphere was like home to me. It is one of the best memories from my childhood.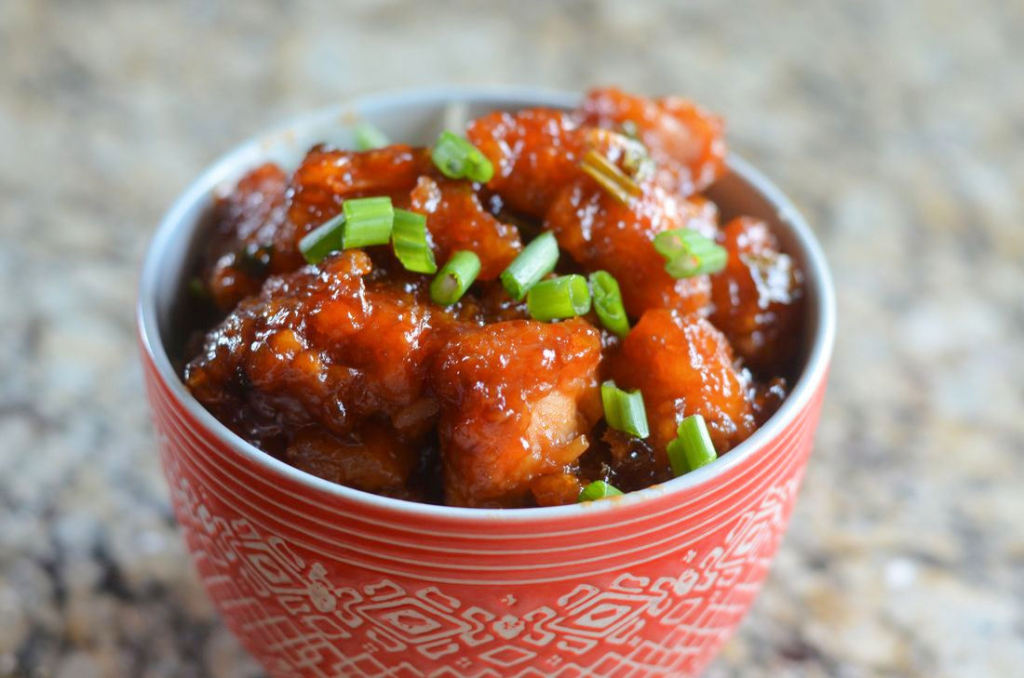 Do you have a memory that stretches back into your childhood that you'll never forget. One that dances in your brain with beauty? I'd love to hear about it below. I know I only have a few but they are so fun and always seem to be wrapped around food. Guess I was always a foodie at heart.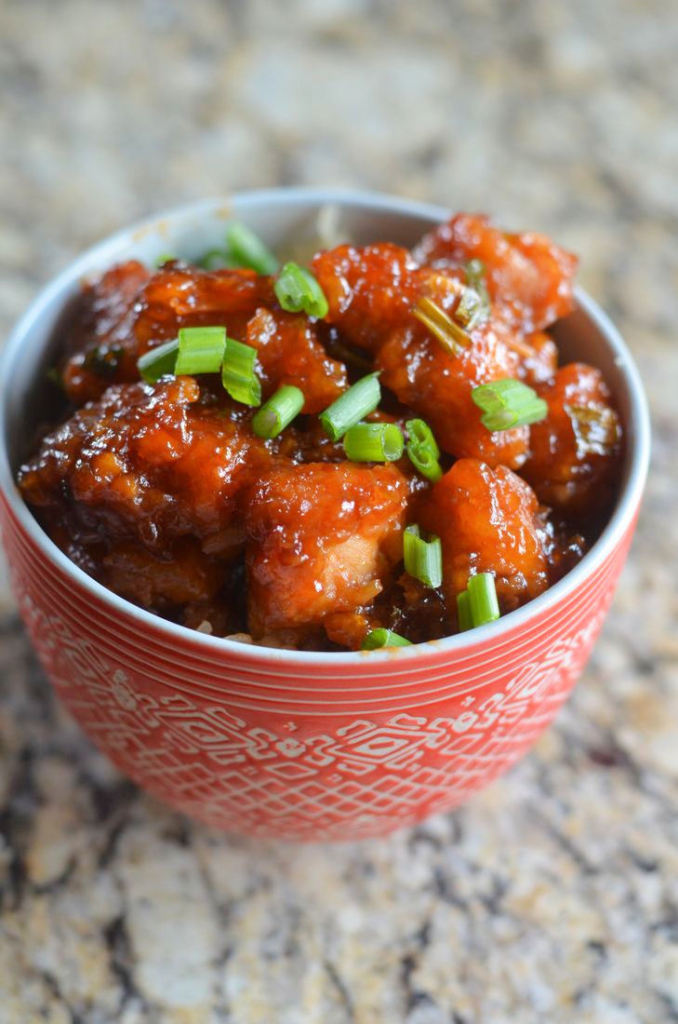 I hope you can try out this dish and wrap some really great holiday memories with it. I know we will. Hopefully, I can find a way to do this in this in the summer too for a movie marathon or season watching party. It really does fit so many occasions. I am off to see the new The Hobbit: The Battle of the Five Armies today and I cannot wait!
SWEET AND SOUR CHICKEN
Total Time:
1 hour
30 minutes
Chicken fried and tossed in a sweet and sour sauce scooped over rice and topped with spring onions.
Ingredients
3 skinless, boneless chicken breast
1 cup cornstarch
2 cups vegetable oil; for frying
1½ cup brown sugar
3 large eggs, beaten
1 cup apple cider vinegar
1 cup ketchup
2 tablespoon soy sauce
4 cloves of garlic; peeled and minced
1 tablespoon fresh ginger; minced
¼ teaspoon salt
¼ teaspoon pepper
1 stalk spring onion; sliced
Instructions
To make the sauce, whisk together brown sugar, vinegar, ketchup, soy sauce, ginger and garlic ins a medium bowl; set aside.
In a cast iron skillet, pour in oil and heat to a medium heat.
Diced chicken into ½ cubes. In a medium bowl crack three eggs and beat with a whisk until well blended. In a large bowl place cornstarch. Roll chicken cubes in the egg and then into the cornstarch and place in to the hot frying pan with a spider. Careful not to burn yourself.
In a large pan, add in sauce and put on low. This will help to thicken the sauce while frying the chicken.
Drain chicken as you pull it from the oil and place it into the sauce. Repeat this until all chicken is fried and in the sauce. Toss until all chicken is coated. Top with salt and pepper.
Turn off heat. Add the sliced spring onion to the top and stir. Remove from heat and serve over white steamed rice.
Notes
There is an option to do baked. If you are interested comment below and I will gladly write up a recipe for baked.
Nutrition Information:
Yield:

4
Serving Size:

1
Amount Per Serving:
Calories:

1635
Total Fat:

116g
Saturated Fat:

10g
Trans Fat:

3g
Unsaturated Fat:

100g
Cholesterol:

216mg
Sodium:

1266mg
Carbohydrates:

116g
Fiber:

1g
Sugar:

80g
Protein:

34g
For more on our nutrition disclaimer https://mooshujenne.com/nutrition-disclaimer/
Pin Sweet and Sour Chicken