Spooky Noodles With Blood Sauce
This post may contain affiliate links. Please read my privacy policy.
Did I mention how much I love Halloween? It might become pretty obvious this week through all the blog posts. Between creating a full on graveyard for my front yard and the mess of a Halloween party we had last weekend it has been a fulfilled Holiday season so far. Last night we had a #fearfeast with these lovely Spooky Noodles with Blood Sauce along with watching The Conjuring.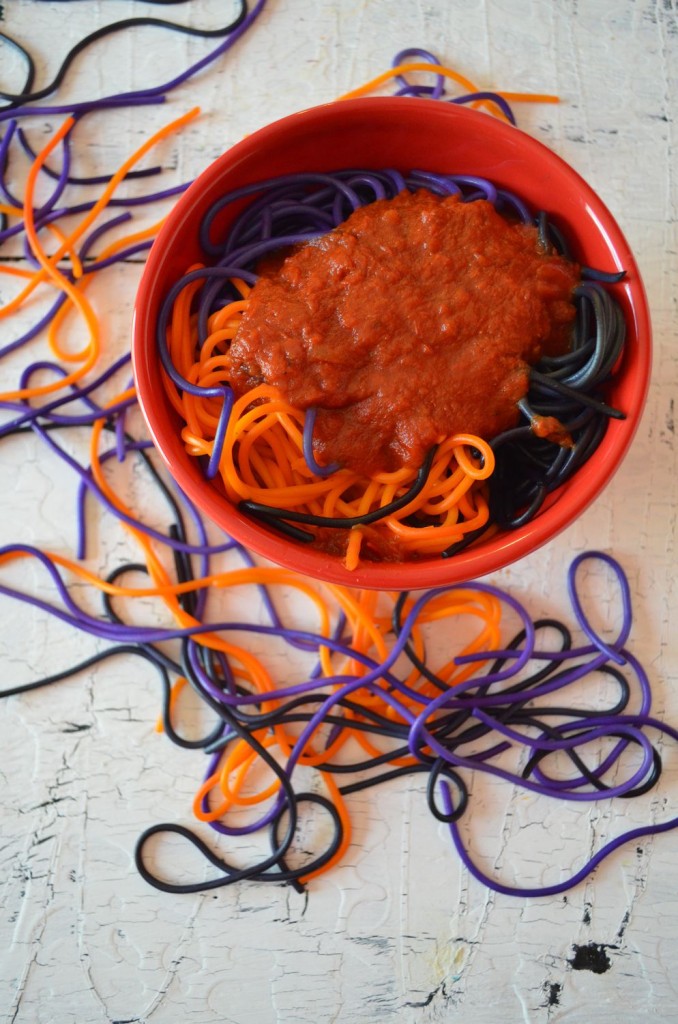 Have you seen it yet? It really spooked my daughter. We love to watch scary movies this time of year. I think our all time favorite across the board is Halloween with Michael Myers. My son might argue with Texas Chainsaw.  
Halloween has to be just the creepiest of films. What film do you find the to be the scariest? Do you remember those plastic costumes in the 1980's that tied on in the back and were paired with the plastic mask. Looking back now those had to make Halloween just a bit more creepy!
Although, It's fun to me to always find new ways to make Halloween fun for the teens and adults. Spooky noodles are an easy way to turn a normal night into a fun fear feast. Furthermore, if you have any leftovers you can always toss them at each other for some gooey fun!
It so simple that all you need is some Americolor food coloring, plastic gallon storage bags, and spaghetti sauce for topping. I am not sure how other food coloring would work but I decided on Americolor as it is said to be the best on the market when it comes to gel food coloring.
How are you getting your spook on this Halloween season? Are you having a party, fear feast, or just a bit of trick or treating? We are planning a fright night with food, scares, and trick or treating for Halloween! Now off for dinner, Ghost Adventures, and Haven! I love Friday night TV!
Spooky Noodles with Blood Sauce
Ingredients
3 drops Super Black Americolor food gel
3 drops Regal Purple Americolor food gel
1½ lbs pre-cooked pasta
3 drops Electric Orange Americolor food gel
Jarred or homemade spaghetti sauce of choice; blood sauce
Plastic gallon storage bags
Instructions
Boil pasta to package directions. Wash off and cool completely. Add ⅓ of pasta to each gallon size storage bag. Put a few drops of purple in one bag, orange in another, and black in the last. Let air out and seal. Toss well until pasta is coated and desired color is reached.
Heat sauce in a sauce pan on low until desire heat is reached. Plate pasta and top with blood sauce (spaghetti sauce). Serve for spooktacular fun!
Nutrition Information:
Yield:

4
Serving Size:

1
Amount Per Serving:
Calories:

405
Total Fat:

3g
Saturated Fat:

1g
Trans Fat:

0g
Unsaturated Fat:

2g
Cholesterol:

6mg
Sodium:

323mg
Carbohydrates:

71g
Fiber:

7g
Sugar:

13g
Protein:

25g
For more on our nutrition disclaimer https://mooshujenne.com/nutrition-disclaimer/
Pin Spooky Noodles In Blood Sauce: