This post may contain affiliate links. Please read my privacy policy.
Between this month and next many people will get tired of the relentless pumpkin recipe posts. Please let me add to that irritation 🙂 Pumpkin marks one of the most beautiful times of the year. Gloomy weather, autumn colored trees, and decorated yards all scream Happy Fall! Witches on broomsticks, black cats, graveyards, and spooky set ups galore but don't forget your apple cider with a slice of Pumpkin Pound Cake!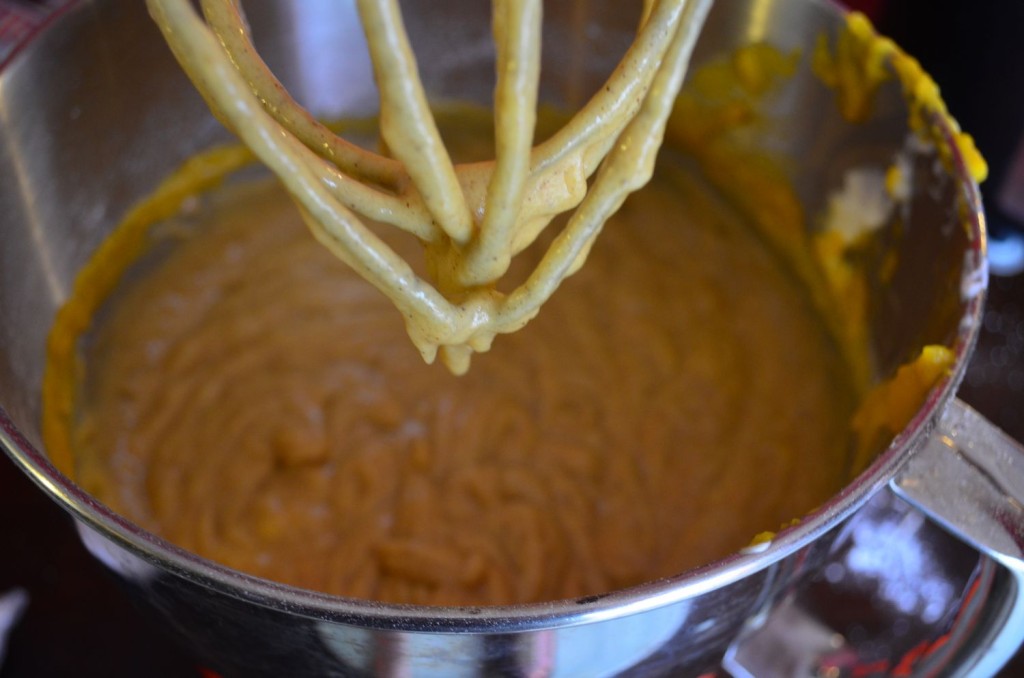 A few days ago I posted about how to roast a pumpkin for pumpkin puree. This is one of the recipes created from that puree. I swear by fresh roasted pumpkin. The aroma when this is baking tingles your nose and beckons the spirits whom plan to haunt on All Hallow's Eve! Can you see the speckles of flavor dripping from the whisk?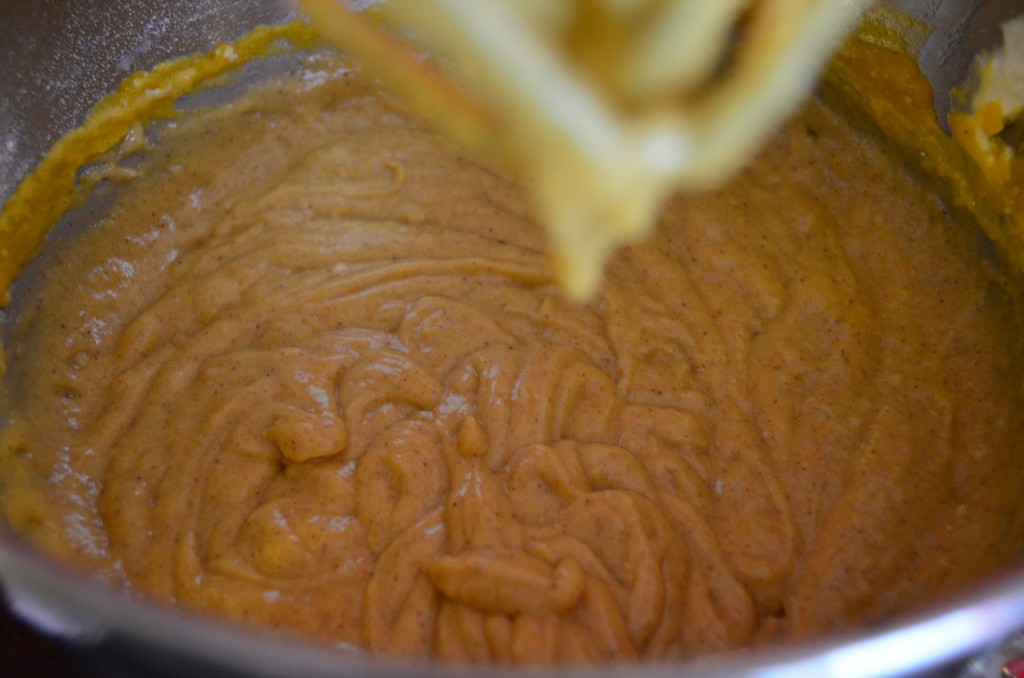 Maybe we should get a little closer so you can see the pretty pumpkin spiced dough. This is a simple recipe and so fun to pass along to friends or neighbors to get the baking season going. What are your favorite recipes to share that contain pumpkin?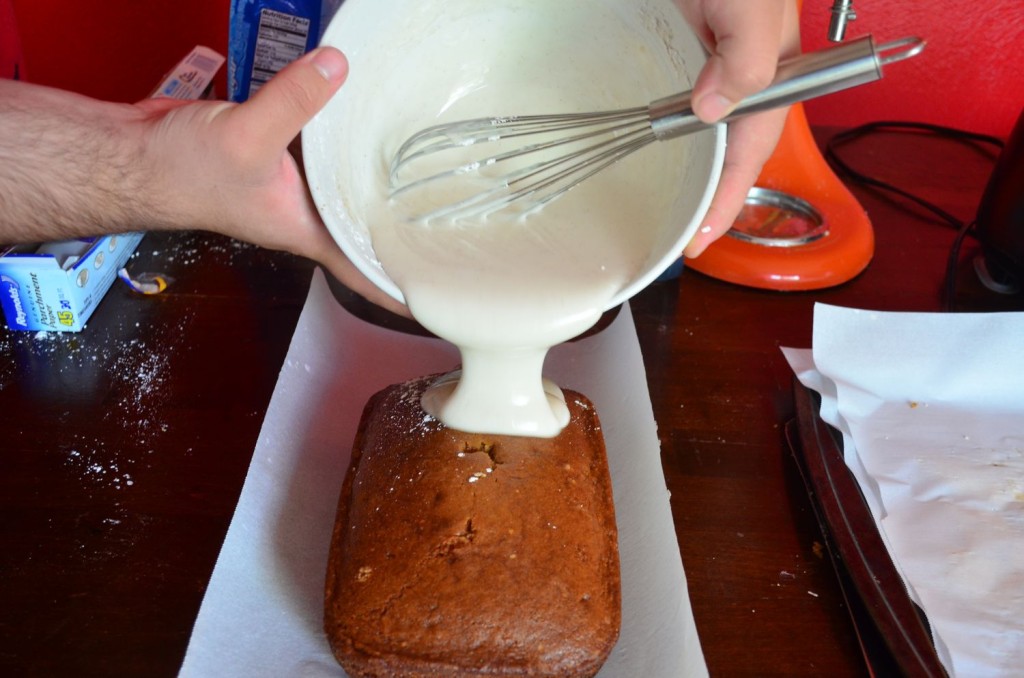 My son harassed me over this recipe. He wouldn't stop till he could get a slice. See his hands here pouring the icing as I photographed it. He just wanted me to finish it so badly so he could eat it all. If I let Chancelor he would eat the whole loaf on his own with hot chocolate or a spiced latte in the other hand.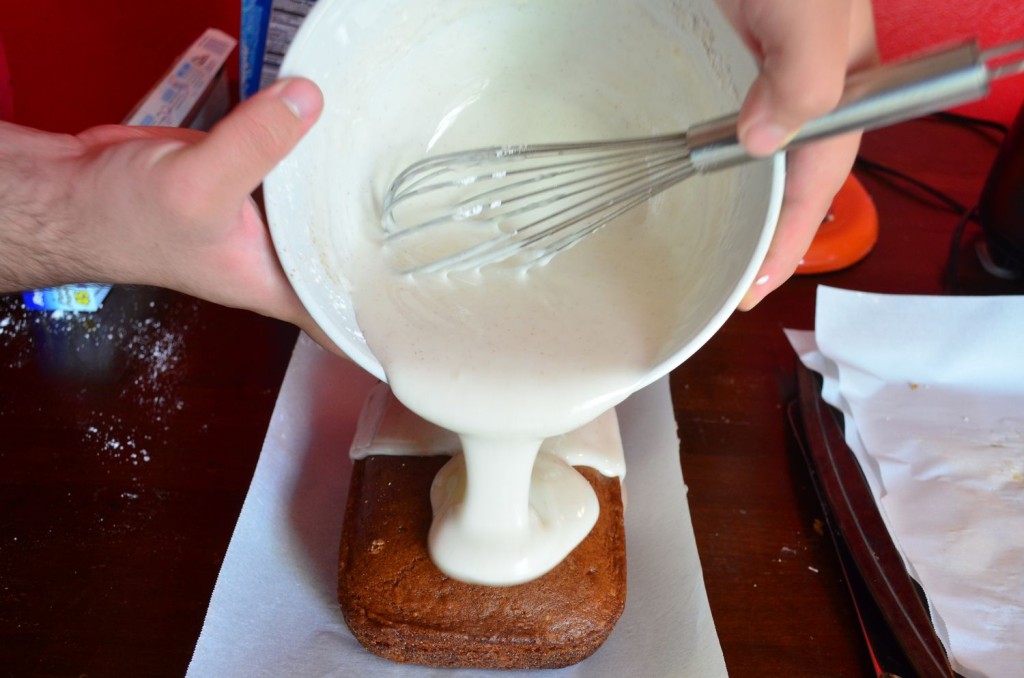 We like a lot of icing so it really dries to the loaf. It's amazing that they like this as they don't like normal butter cream icing. They will scoop it right off cupcakes and cakes. Though, I admit I prefer icing rather then thick frosting on cupcakes. What do you prefer?
Remember to ice it cold and let it dry so it crumbs like this when you slice it. Let me know in the comments below what decorations are you setting up and what would you pair with this Pumpkin Pound Cake?
Pumpkin Pound Cake
Total Time:
1 hour
20 minutes
Ingredients
For Pumpkin Pound Cake
3 cups all purpose flour
3 cups white sugar
1 teaspoon ground cinnamon
½ teaspoon salt
1 teaspoon baking soda
1 teaspoon baking powder
6 egg whites
1 teaspoon ground cloves
1 teaspoon ground nutmeg
2 cups fresh pumpkin or canned pumpkin
1 cup greek yogurt plain
For Cinnamon Icing
2 cups powdered sugar
Water
2 teaspoons cinnamon
Instructions
Preheat oven to 350º. Grease two glass loaf baking dishes and set aside.
Add flour, spices, baking soda, and baking powder into a mixing bowl. Set to low speed for 30 seconds. Combine the sugar, Greek yogurt, and egg whites. Mix until well blended. Fold in the pumpkin puree.
Pour the batter into two glass baking loaf dishes about half way up the dish and bake for 60 minutes or until knife inserted comes out clean. Cool cake on wire rack. Remove from the loaf dish and place on parchment paper.
In a small bowl add powdered sugar and 2 tablespoons water. Whisk well until consistency is like icing. If you need to add a little more water until you receive the desired texture you may do so. Add cinnamon and whisk. Pour over cooled cake and let dry before serving.
Nutrition Information:
Yield:

4
Serving Size:

1
Amount Per Serving:
Calories:

1250
Total Fat:

2g
Saturated Fat:

1g
Trans Fat:

0g
Unsaturated Fat:

1g
Cholesterol:

3mg
Sodium:

816mg
Carbohydrates:

292g
Fiber:

7g
Sugar:

211g
Protein:

23g
For more on our nutrition disclaimer https://mooshujenne.com/nutrition-disclaimer/
Pin Pumpkin Pound Cake: