This post may contain affiliate links. Please read my privacy policy.
Salsa is just not something that stays very long in my house. It seems that a jar of good salsa at $5 a jar is just not worth the cost when you can make triple that amount with this simple recipe. Of course the guys (Chance & V) in the house were not sure if this salsa would be as good as the jarred variations. This is how to make pick your own heat salsa.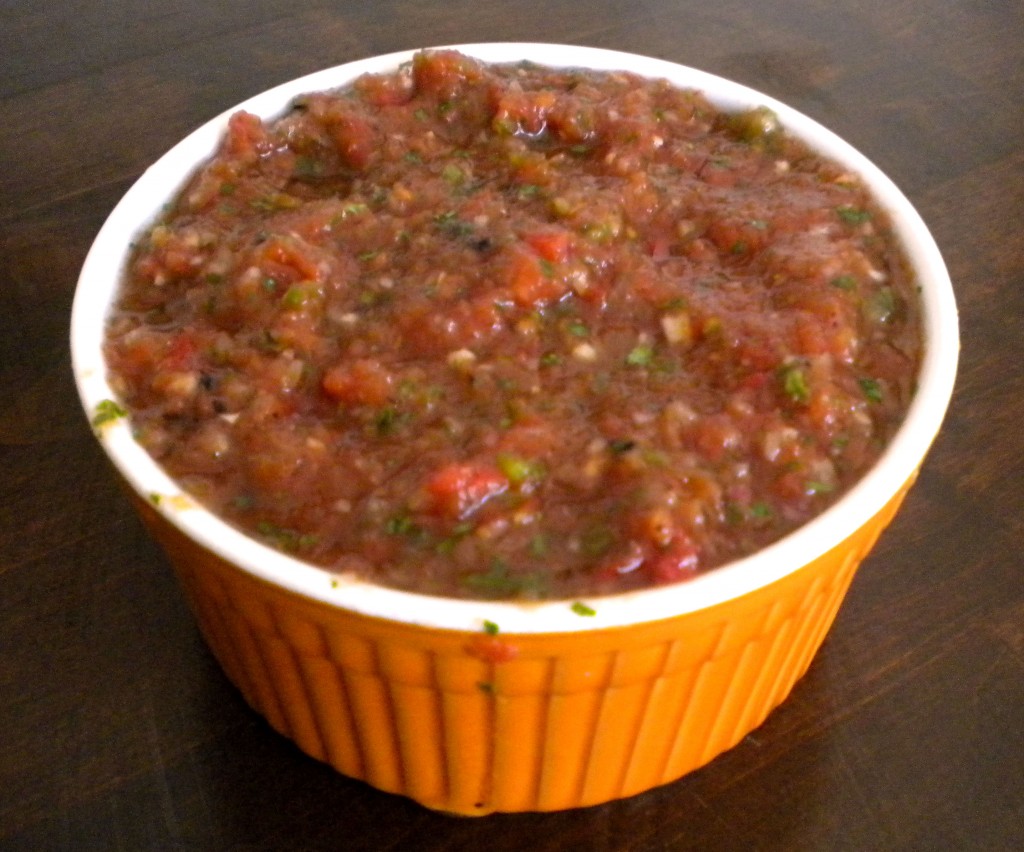 Pick Your Own Heat Salsa
Of course I told them it won't be as good, it will be even better because the salsa is fresh, all except the canned tomatoes of which you can eliminate, and just use fresh tomatoes in the place of them.
However, I love the taste of the fire roasted tomatoes the best. So, if you are going to use some fresh tomatoes do not forget to throw them on the grill or roast them in the oven.
As far as picking your heat! If you want a spicy burn use more jalapenos. If you want a soft heat add more serranos. When I make this for people who can't handle the heat I use one jalapeno and two serranos.
If you want a bunch of heat then leave your seeds in the jalapenos. Now off to make some yummy cold desserts to beat this 100 degree month of heat in Texas!
Pick Your Heat Salsa
Ingredients
6 cloves of garlic
One bunch of cilantro(cut off stems)
2 jalapenos (your choice of more or less for the heat)(remove seeds and ribbing)
2 serranos (again your choice of more of less for the heat)
One red onion (chopped)
2 cans of Fire Roasted Tomatoes
1 large can of tomato sauce
One lime
Salt & pepper
One large container to store salsa
Food processor
Instructions
In a food processor drop in your garlic, cilantro, and peppers. Pulse till garlic is minced and cilantro is fine. Add your onion and pulse. Squeeze the juice of the lime and add in the two cans of fire roasted tomatoes.
Pulse for a few second and then add in the large can of tomato sauce. Salt and pepper and pulse till well mixed. If you would like this to stay longer then a week just add a half of a cup of vinegar to your salsa. Vinegar will act as your preservative. Store in large container in fridge.
Nutrition Information:
Yield:

6
Serving Size:

1
Amount Per Serving:
Calories:

37
Total Fat:

1g
Saturated Fat:

0g
Trans Fat:

0g
Unsaturated Fat:

0g
Cholesterol:

0mg
Sodium:

271mg
Carbohydrates:

9g
Fiber:

3g
Sugar:

4g
Protein:

1g
For more on our nutrition disclaimer https://mooshujenne.com/nutrition-disclaimer/