This post may contain affiliate links. Please read my privacy policy.
This is one of my favorite all time dishes paired with lo mein and saké. The fresh spring onions are on my go to list for everything. Snacks, garnishes, side dishes and meals. I have to tell myself not everyone likes onion like I do. Spring onions bring color to Orange Chicken along with a hint of flavor.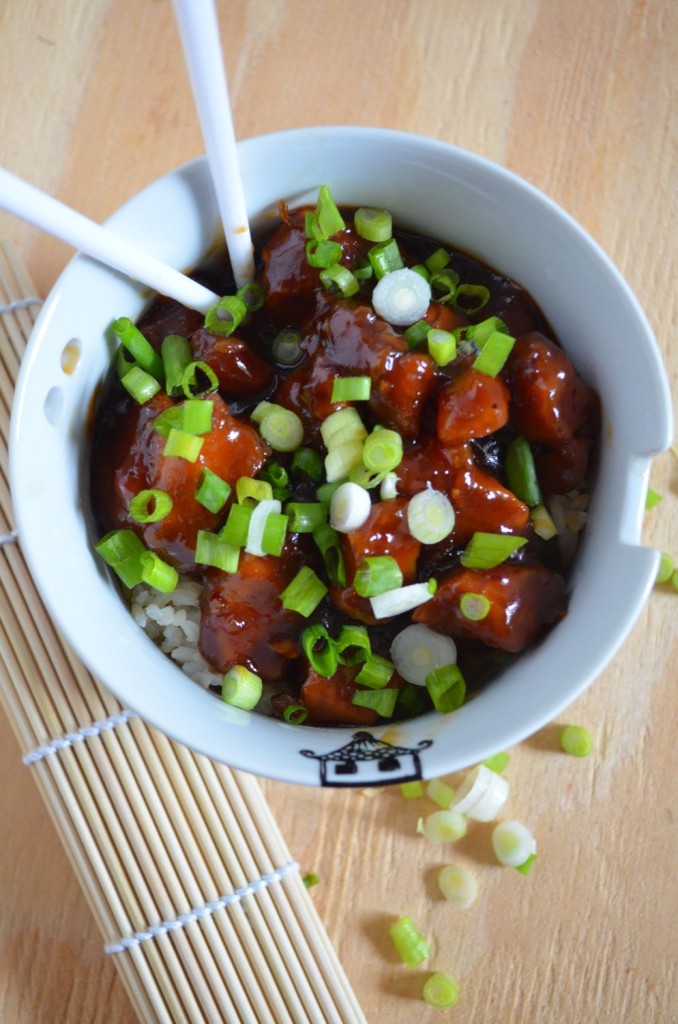 What's your favorite Asian dish? I really dig beef broccoli, sesame chicken, hot and sour soup, lo mein, and even egg drop soup if made correctly. Orange chicken is universal though. You can lightly fry the chicken before with cornstarch or you can just saute the chicken or bake the chicken. My preference is to lightly fry the chicken because I honestly love the extra crunch.
Many think this meal is quick to make. It very well can be but when I do it, it always takes me about an hour. I fry the chicken first on the stove top and set it aside. Then I make the sauce and simmer the chicken in the sauce while the sauce thickens around the chicken. If you would like a darker orange chicken you may use a dark soy sauce and dark brown sugar. Generally, I use the light brown sugar and dark soy sauce.
We munched on this while watching Supernatural last night. It was a hilarious episode. Dean could talk to animals and part of the potion/spell he had to take had side effects of acting like an animal. Barking at the mail man and playing fetch about had me on the floor. Then they had this beautiful shepherd on talking to Dean which was pretty funny too.
What I would give to have a beautiful shepherd like that in my home. Though I do love my Carolina dog Ozzy; he's super spoiled!  Do you watch Supernatural? It's probably my most favorite TV series. Haven comes in at a close second. Love to know what you watch. Always on the look out for a new show.
Orange Chicken
Ingredients
6 tablespoons cornstarch
3 lb. boneless, skinless chicken breast, ½ inch cubes
Vegetable oil for frying
⅓ cup soy sauce
½ cup orange juice
1½ cup brown sugar
1 tablespoon fresh ginger, grated or minced
2 cloves of garlic, minced
1 tablespoon garlic chili sauce
4 stalks spring onions; sliced
Salt and pepper
Instructions
In a skillet or wok, heat vegetable oil for frying. In a small bowl add 4 tablespoons of cornstarch. Slice chicken into ½ cubes. Toss a little chicken at a time in the cornstarch and shake off excess. Fry two handfuls at a time until the chicken is lightly golden brown. Put chicken in a bowl on the side and fry more until all is complete.
In a sauce pan, add soy sauce, orange juice, brown sugar, garlic, ginger, chili sauce and 2 tablespoon cornstarch. Bring to a boil and lower to a simmer. Cook for about 5 to 7 minutes whisking frequently. Add salt and pepper. Once the sauce starts to thicken add chicken to the pot. Toss chicken well and cook for about 8 minutes until sauce is thick on chicken.
Serve over rice or with lo mein topped with spring onions.
Nutrition Information:
Yield:

4
Serving Size:

1
Amount Per Serving:
Calories:

935
Total Fat:

16g
Saturated Fat:

4g
Trans Fat:

0g
Unsaturated Fat:

10g
Cholesterol:

289mg
Sodium:

1578mg
Carbohydrates:

85g
Fiber:

1g
Sugar:

70g
Protein:

108g
For more on our nutrition disclaimer https://mooshujenne.com/nutrition-disclaimer/
Pin Me: