This post may contain affiliate links. Please read my privacy policy.
Just one day away till Halloween. It's raining here but it's suppose to make its way out before tomorrow nights festivities. What are your plans this Halloween? We are ordering pizza and I plan to make some cupcakes with a Halloween swirl. Though on Fall nights like this I love to make stew, soups, and goulashes. There just happens to be more then one way to make a goulash. My other half would assume this Moroccan beef stew is a goulash. I say it's a stew. You can decide for yourself.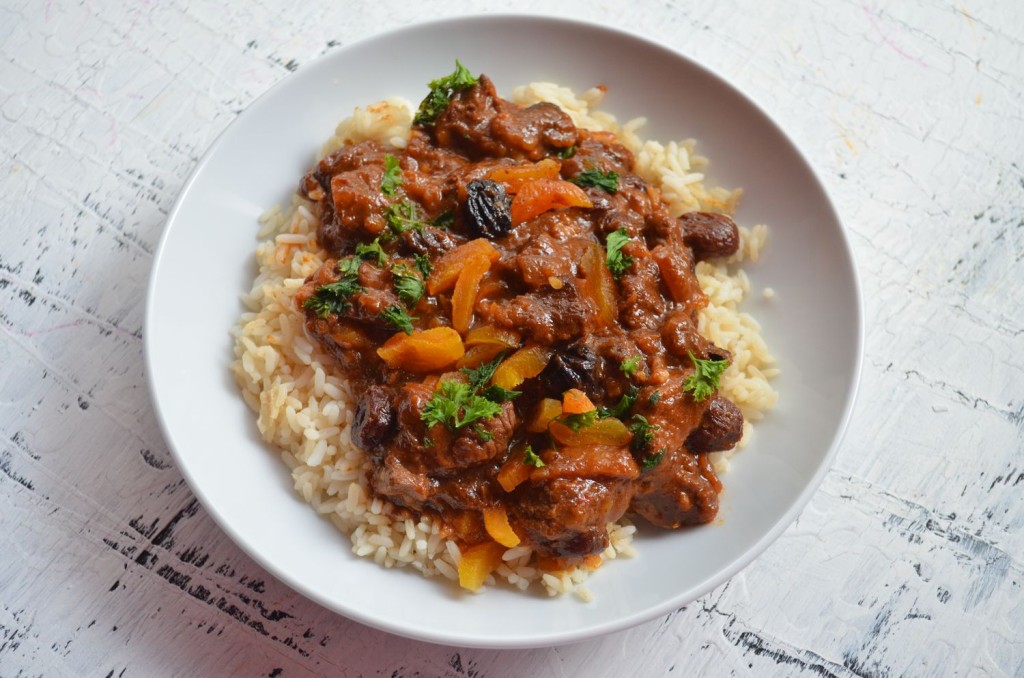 The aromatic smell of the allspice and cinnamon as this simmers on the stove reminds me of Fall. Most of all I dig the usage of apricots and raisins. Dried fruit really gives the dish flavor and color.
I added some dried apricots to the top for more color but I cook some in the dish too. Too add a bit of green you can top with parsley or basil though we eat it without those.
Tonight, I plan on helping my daughter carve a pumpkin. I know the other half will probably take over and do his rendition of a Halloween Michael Myers pumpkin just like in the films and on the cover.
I hope if it's not to wet outside to get some pictures of my eerie graveyard and the pumpkin this evening. Do you make your own Halloween decorations? I have too much fun doing it. I don't make costumes though. Sewing is not my forte.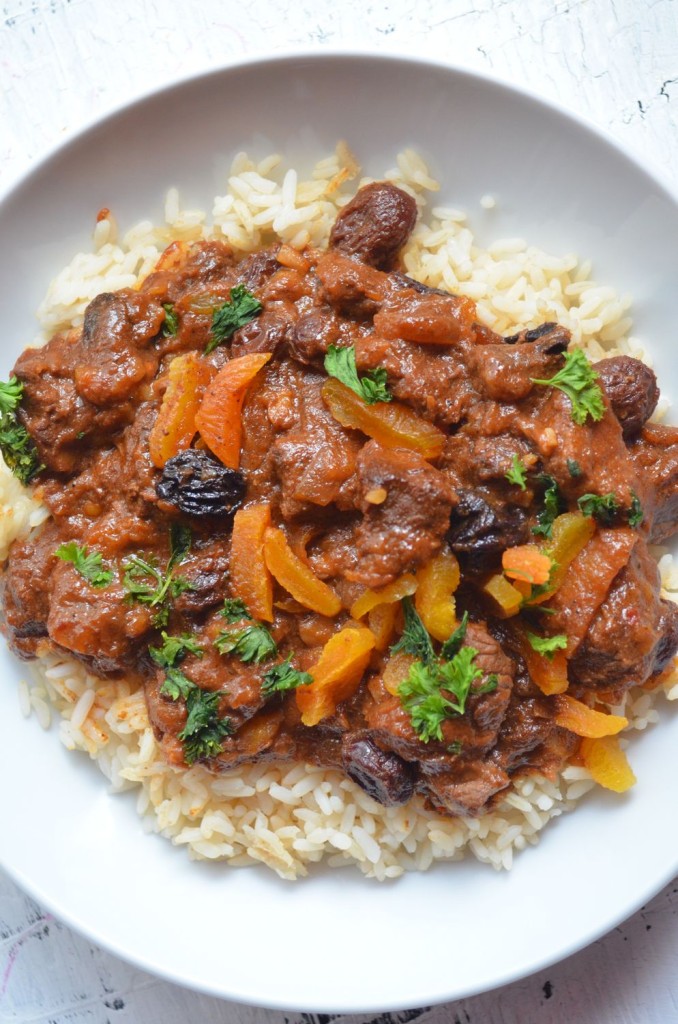 Thinking of tomorrow night is anyone planning on watching the Ghost Adventures two hour Transylvania episode? I am going to try to catch at least half of it. I know for some part of it we will be trick or treating.
What time do you head out? Do you wait till dusk or just go at around 7:00P.M.? We usually wait until dusk but lately more people have been starting earlier especially if it is a school night. However you celebrate I hope your preparations for All Hallow's Eve are underway.
Moroccan Beef Stew
Cook Time:
1 hour
30 minutes
Total Time:
1 hour
30 minutes
Ingredients
2 tablespoons olive oil
2 lbs. beef stew meat
1 large yellow or white onion; diced
1 tablespoon fresh ginger; diced
3 cloves garlic; minced
1 tablespoon allspice
½ tablespoon cinnamon
2 teaspoons crushed red pepper
1 cup red wine
½ cup ketchup or 1 small can tomato paste
2 to 3 cups beef broth
7 whole dried apricots; sliced
1 handful of raisins
1 tablespoon Wondra flour
Salt and pepper
Instructions
In a large pot, add in olive oil and beef stew meat. Add in diced onion, garlic and ginger. Saute until the meat is browned. Add in allspice, cinnamon and crushed red pepper. Mix well. Add red wine to deglaze pot. Pour ketchup and beef broth. Bring to a boil and lower to a simmer. Add some of the apricots and all of the raisins. Simmer for about an hour to an hour and a half.
Once meat is tender add the one tablespoon of Wondra flour and stir well. Add salt and pepper. Serve over rice or pasta. Top with apricots for extra color.
Nutrition Information:
Yield:

4
Serving Size:

1
Amount Per Serving:
Calories:

694
Total Fat:

24g
Saturated Fat:

8g
Trans Fat:

1g
Unsaturated Fat:

15g
Cholesterol:

225mg
Sodium:

1847mg
Carbohydrates:

34g
Fiber:

3g
Sugar:

21g
Protein:

80g
For more on our nutrition disclaimer https://mooshujenne.com/nutrition-disclaimer/
Pin Me: