Lusikkaleivät – Finnish Teaspoon Cookies
This post may contain affiliate links. Please read my privacy policy.
Yesterday was the first day of winter break and I had to con my kids into making cookies with me. Nothing to extreme just one free present from under the tree. They always sucker me in somehow or is it the other way around. We made Lusikkaleivät  also known as Finnish Teaspoon Cookies with homemade cranberry jam in the center.  Super simple and just perfect to add into a tin for Christmas sharing.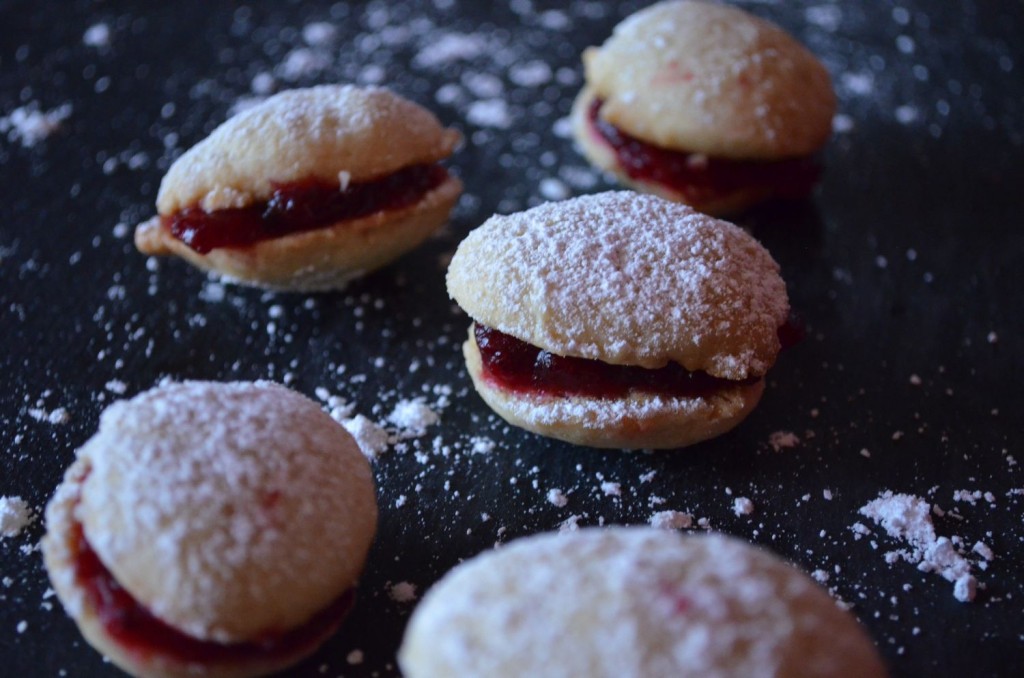 Went with a bit of dark photography since the weather is doom and gloom here. I love this weather though. The rain is nice I just hope the tornadoes stay away this holiday season for everyone. No one needs that.
Just counting the days until Christmas Eve now. It's tradition in Czech to open gifts on Christmas Eve so we do them then to honor my sweet V's heritage. The rest is mine with a huge pot of spaghetti sauce from a recipe that was passed down in our family for generations; which we have on Christmas Day.
Plus, I make as many Finnish cookies as possible in honor of my Nordic side. This Christmas Eve we will have family over briefly and then head to his parent's house for a Czech feast! What are your plans this holiday season?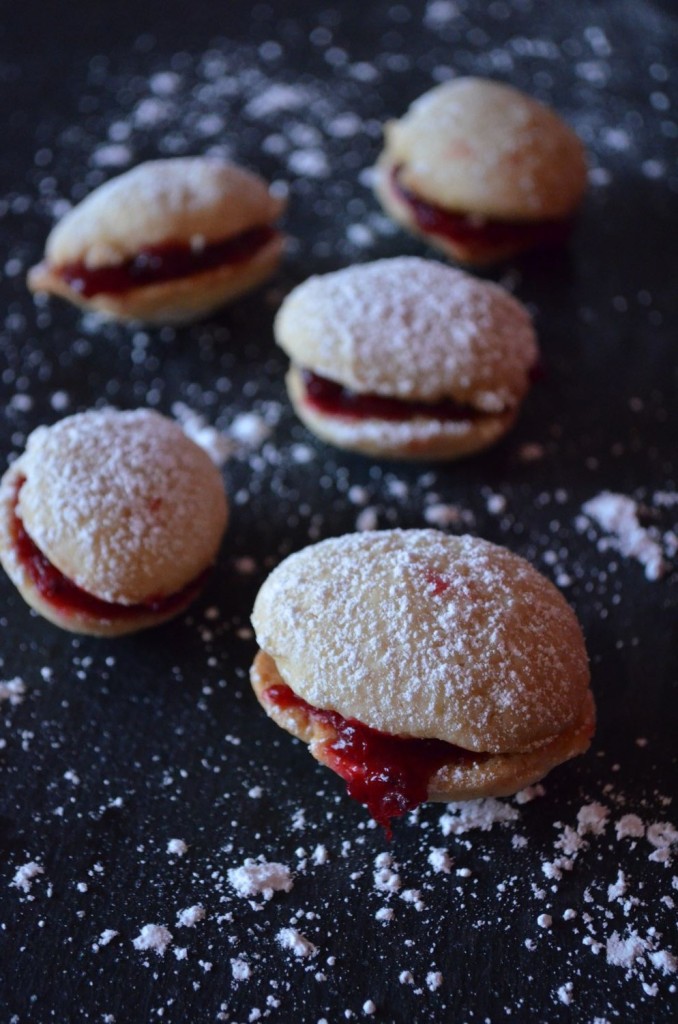 Christmas
My contribution to the meal will be a New York style cheesecake with a cranberry syrup for topping. Cranberries just scream Christmas to me. The sweet tart is one of my favorites of the season.
Yes, I am aware that many don't like cranberries but I feel it may just be the fact that they tried cranberry juice, which can be bitter, and think they don't like them.
Wrong! Try the jam or something with cranberries with added sugar. Even better try it with duck or turkey if you are a meat person. Do you like cranberries? Why or why not? Comment below 🙂
Here is the recipe for the Lusikkaleivät – Finnish Teaspoon Cookies. Hopefully soon I will have my 50MM lens and my photography might get even better! Those and pair of red leather Tieks.
I would love to hear about your traditions below. Happy Holidays!
Lusikkaleivät – Finnish Teaspoon Cookies
Ingredients
1 cup unsalted butter; 2 sticks
1 egg
¾ cup sugar
1 tablespoon vanilla
3 cups plain flour
1 teaspoon baking soda
Cranberry jam
Powdered confectioner's sugar
Instructions
Preheat oven to 325 degrees F. Line baking pan with parchment paper.
In a microwave safe bowl, melt butter. Combine flour, baking soda, and sugar to the bowl of your stand mixer. Mix for 30 seconds. Add egg, butter, and vanilla. Mix until mixture is well combined and becomes a dough.
To shape the cookies, press dough firmly into a teaspoon. Gently use your thumb to remove the dough; try to retain the shape. Bake for 8 to 10 minutes until just barely browned. Allow to cool on the baking sheet.
Spread cranberry jam on the flat side of each cookie. Add a second cookie to form a sandwich. Using a sifter, dust the cookies with confectioner's sugar.
Nutrition Information:
Yield:

12
Serving Size:

1
Amount Per Serving:
Calories:

355
Total Fat:

16g
Saturated Fat:

10g
Trans Fat:

0g
Unsaturated Fat:

5g
Cholesterol:

56mg
Sodium:

115mg
Carbohydrates:

49g
Fiber:

1g
Sugar:

24g
Protein:

4g
For more on our nutrition disclaimer https://mooshujenne.com/nutrition-disclaimer/
Lusikkaleivät: