This post may contain affiliate links. Please read my privacy policy.
Cooking on Friday's is NOT my forte'. With that being said, crock pots can come in handy when you want to make a meal and run off to see the new Percy Jackson Sea of Monsters film. These Italian beef sandwiches cook wonderfully easy in the crock pot without to many ingredients too; it is a budget friendly recipe!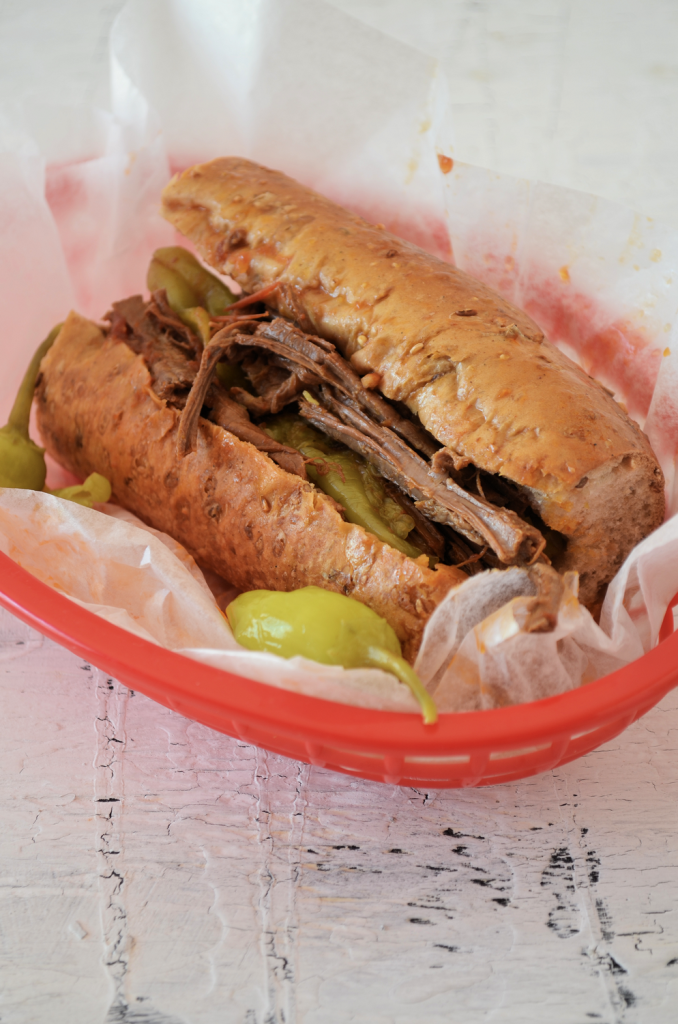 The new Percy Jackson movie is definitely a hit in my book. It would be fun to read the entire series but so far I have only accomplished reading the first book. As soon as the first film came out we went to the theaters to see it.
Unfortunately, I did not get to see this movie on opening weekend. Though the next film I will make it a point to go see it opening weekend. Did you like the new Percy Jackson film?
After running off to see the new Percy film, since our power was out due to maintenance, we went shopping. The Italian beef for the sandwiches slow cooked the night before. Once we got home from shopping I just clicked the crock pot on to warm.
By dinner time the Italian beef was warmed up for the sandwiches. Made my Friday night cooking easy and great for the family time! As fall approaches, my Friday nights are spent making easy dinners and of course watching Haven.
This show has an amazing cast which is so fun to watch! Duke has to be my favorite on the show with a few runners up. I simply cannot wait for this show to come back on. Guess that means I need to make more easy dinners just like this one. Do you have any easy meals that you make on Friday's?
The Sandwich
Gosh! This sandwich really is the bomb! In Chicago a.k.a Chi-town, you can get these bad boys all around. Here in Texas, we have one joint in a 100 mile radius that sells these but nowhere close to what you get up north.
Sometimes it is nice to go out to eat and just grab a drippy sandwich. I wish we had places here that sold good food like this Italian beef sandwich. At least for the meantime I can make these as good as the ones I had in Chi-town at home. So without further ado here is the recipe!
Italian Beef
Total Time:
12 hours
20 minutes
Slow cooked beef topped on sandwich bread with peperoncini's.
Ingredients
1 jar of peperoncini's
1 32 oz container of beef broth
4 lbs beef bottom round roast (not chuck roast)
1 can of crushed tomatoes
Salt and fresh cracked pepper
Hoagie rolls, baguette, or preferred bread
Instructions
In a crock pot, add beef bottom round roast and top with beef broth. Add in crushed tomatoes and all of the juice from the peperoncini's. Use half of the peperoncini's in the pot and reserve the rest for garnish. Top with fresh cracked pepper and salt. Turn crock pot to high.
Once the crock pot has warmed to high and the water has been simmer/boiling for a good hour or two you can reduce the heat to low and let cook overnight. Pull the roast apart and drop into the juice and set the heat to warm to keep a warm temperature for serving.
Slice bread down one side and fill with beef. Make sure to add some of the juice over the top flavor your meat and the bread. Garnish with fresh peperoncini's and/or red onion.
Nutrition Information:
Yield:

4
Serving Size:

1
Amount Per Serving:
Calories:

1383
Total Fat:

61g
Saturated Fat:

23g
Trans Fat:

0g
Unsaturated Fat:

29g
Cholesterol:

399mg
Sodium:

2260mg
Carbohydrates:

62g
Fiber:

4g
Sugar:

8g
Protein:

138g
For more on our nutrition disclaimer https://mooshujenne.com/nutrition-disclaimer/
Pin Italian Beef: