Instant Pot Hawaiian Beef Meatballs
This post may contain affiliate links. Please read my privacy policy.
It's the dead of summer and who doesn't love a simple meatball dish with pineapple. Instant Pot Hawaiian Beef Meatballs is great for a simple beef dinner. The Asian flavors combined with the fruity pineapple make this a wonderful summer meal.
Even though we can't gather right now this dish is a great one to make then deliver to doorsteps. Instead of having a party in person make up some goodies that people can reheat and join together eating over zoom or facebook rooms.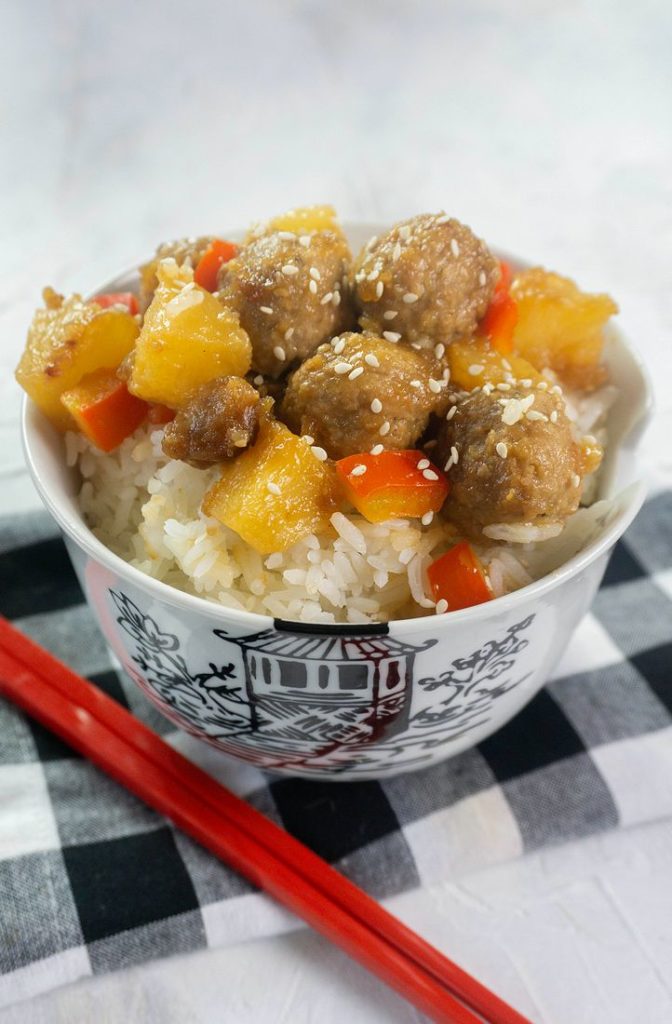 No one says you can't have dinner with friends. Maybe make a group meeting time and all cook together! Enjoy it together on social media. There is still plenty of way to enjoy food like these instant pot meatballs along with family and friends.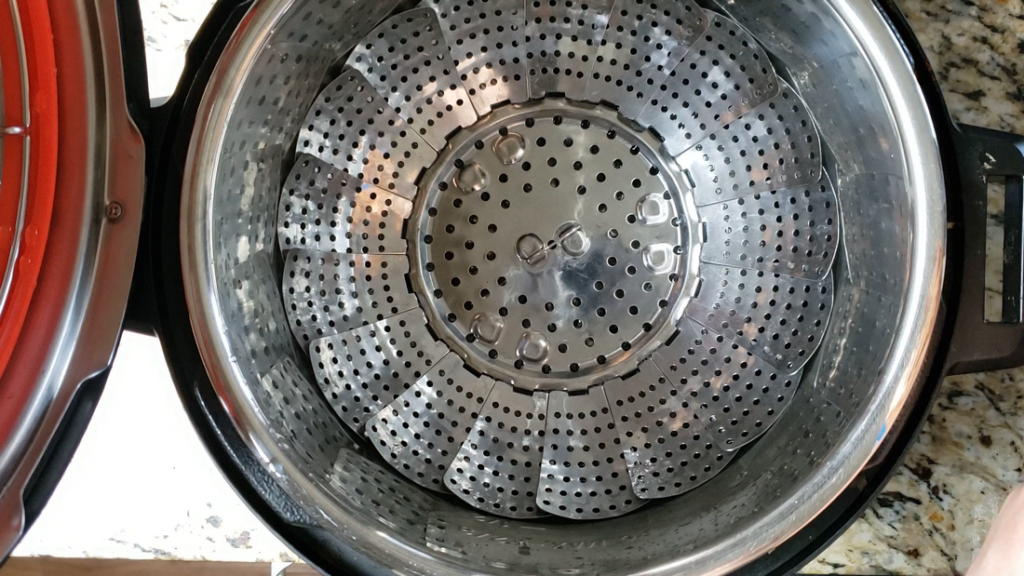 All About The Meatballs:
When cooking meatballs in the instant pot I highly suggest using this steamer basket over a trivet. The meatballs don't stay on a trivet well. If you want to make your own meatballs then be sure to freeze the meatballs at least an hour before steaming so they keep shape.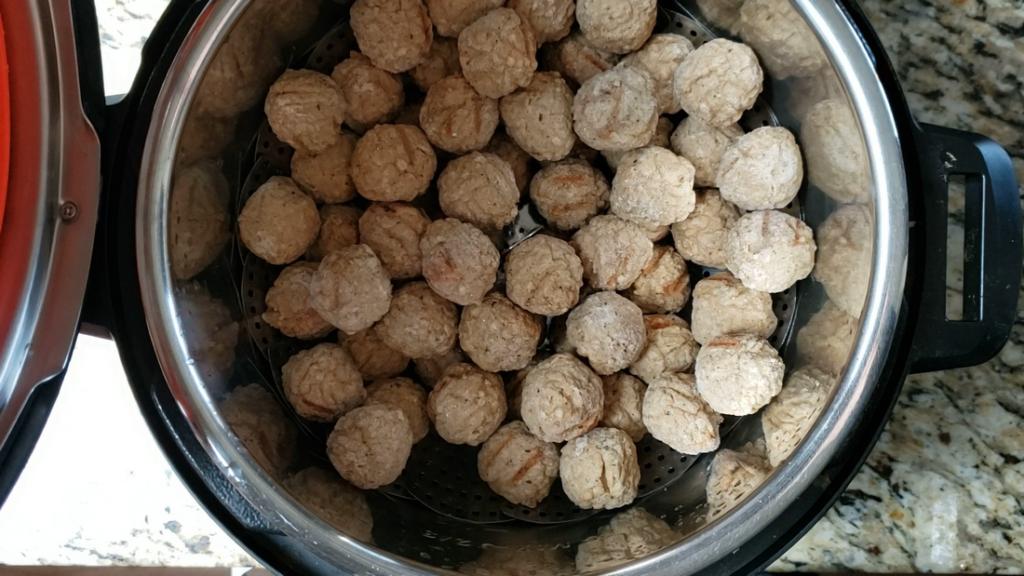 The instant pot we use here is a instant pot duo plus 9 in 1. It's a 6 quart pot but if you want to make this recipe in a 8 quart pot just follow the same directions. If you want to make this instant pot meatball recipe in a 3 quart pot then cut the recipe in half but not the cook time.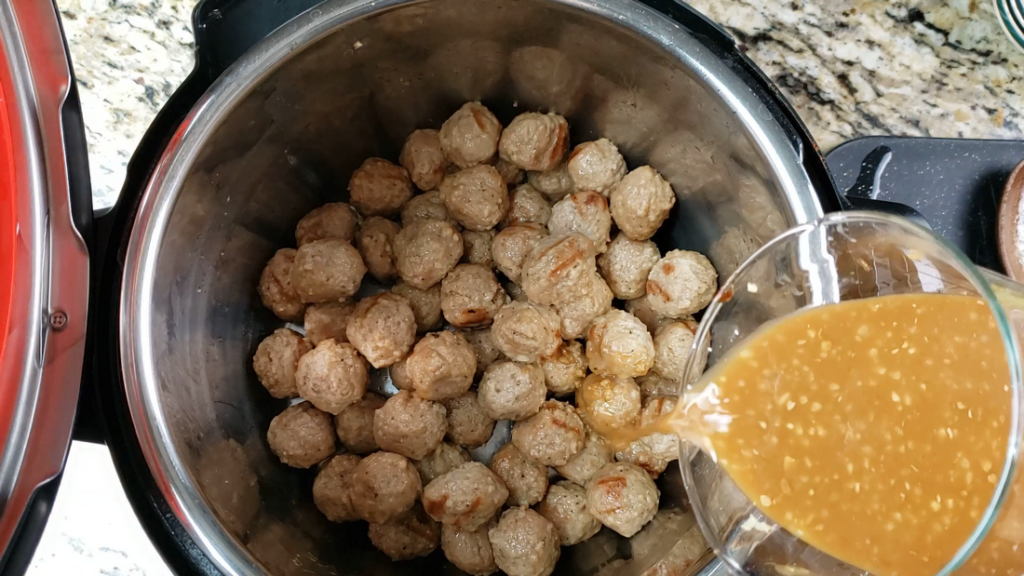 Instant pot meatballs are easy to make with this Hawaiian Asian flavored sauced. The sauce is made int he time that the meatballs are coming to pressure and cooking. The saute mode is used to make the sauce thicken around the meatballs.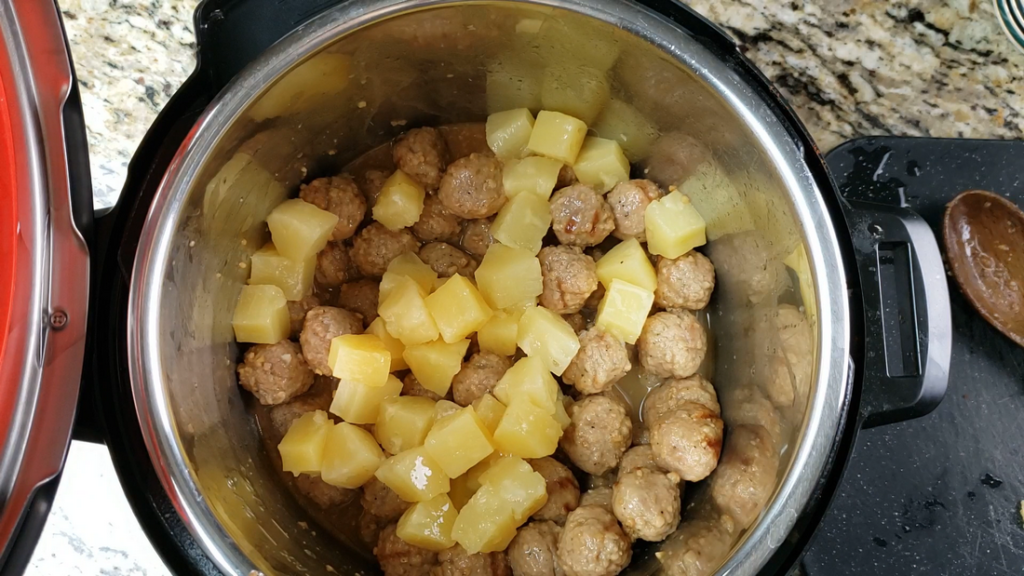 The frozen meatballs used here are bought at either target or walmart. They are just freezer section meatballs. These are not the meatballs that are Italian style these are the meatballs that are home-style meatballs. Italian seasoning and Asian flavors don't match.
If your more of a visual learner scroll down below the recipe and check out the video for instant pot hawaiian beef meatballs. Sometimes it helps to see the process when using the instant pot for cooking especially if you are new at cooking in it.
If you love using the instant pot then we have plenty of recipes above under the tab instant pot. If you would like more meatball recipes then check out the few listed right below.
Instant Pot Meatball Recipes:
Instant Pot Hawaiian Beef Meatballs
The Asian flavors combined with the fruity pineapple make this a wonderful summer meal.
Ingredients
1/4 cup apple juice
1/4 cup pineapple juice
1 tablespoon fresh ginger
1/4 cup soy sauce
4 teaspoons hoisin sauce
4 teaspoons garlic
1/4 cup brown sugar (may be replaced with honey)
3 teaspoons corn starch
1 can pineapple; juice reserved
28 oz frozen beef meatballs
1 cup water
sesame seeds for topping
Instructions
Place steamer basket into instant pot. Pour in 1 cup water. Add in meatballs and place lid on the instant pot. Set valve to sealed. Set timer to 6 minutes. Once the instant warms up and stops counting and beeps release the pressure by turning the valve.
Remove meatballs to a bowl. Lift and drain pot insert. Replace pot insert back into the instant pot. Add meatballs back to the pot.
In a glass liquid measuring cup, add apple juice, pineapple juice, fresh ginger, soy sauce, hoisin sauce, garlic, brown sugar, and corn starch. Whisk well.
Set instant pot to saute mode. Add in pineapple from can but not the juice. Pour the mixture over the meatballs and stir until sauce thickens around the meatballs. Once thick turn off instant pot.
Serve over rice topped with sesame seeds.
Nutrition Information:
Yield:

6
Serving Size:

1
Amount Per Serving:
Calories:

274
Total Fat:

11g
Saturated Fat:

3g
Trans Fat:

0g
Unsaturated Fat:

7g
Cholesterol:

45mg
Sodium:

975mg
Carbohydrates:

32g
Fiber:

3g
Sugar:

19g
Protein:

13g
For more on our nutrition disclaimer https://mooshujenne.com/nutrition-disclaimer/
Pin Instant Pot Hawaiian beef Meatballs