This post may contain affiliate links. Please read my privacy policy.
I love the rustic flavors of the islands. Sometimes it's wonderful to toss up dinner with a little sweet and spicy combination of Caribbean Chicken. This recipe may have many ingredients but it is mostly staple ingredients especially if you make cookies often. Caribbean Chicken is super easy to put together as you blend the spices and juices together and just pour!
My other half V was very afraid of this recipe because he despises sweet dinners. Surprisingly, he enjoyed it. My friend, Jessica, joined us for dinner and some Ghost Adventures watching that evening. After dinner and dessert she said I HAD to put this on the site so she could make it.  
After we enjoyed a few brews. I really fell in love with this chicken when I made it in my teens. I love the loads of fresh onions and tomatoes that roast down in the sweet and spicy sauce. Such a sucker I am for sweet and spicy!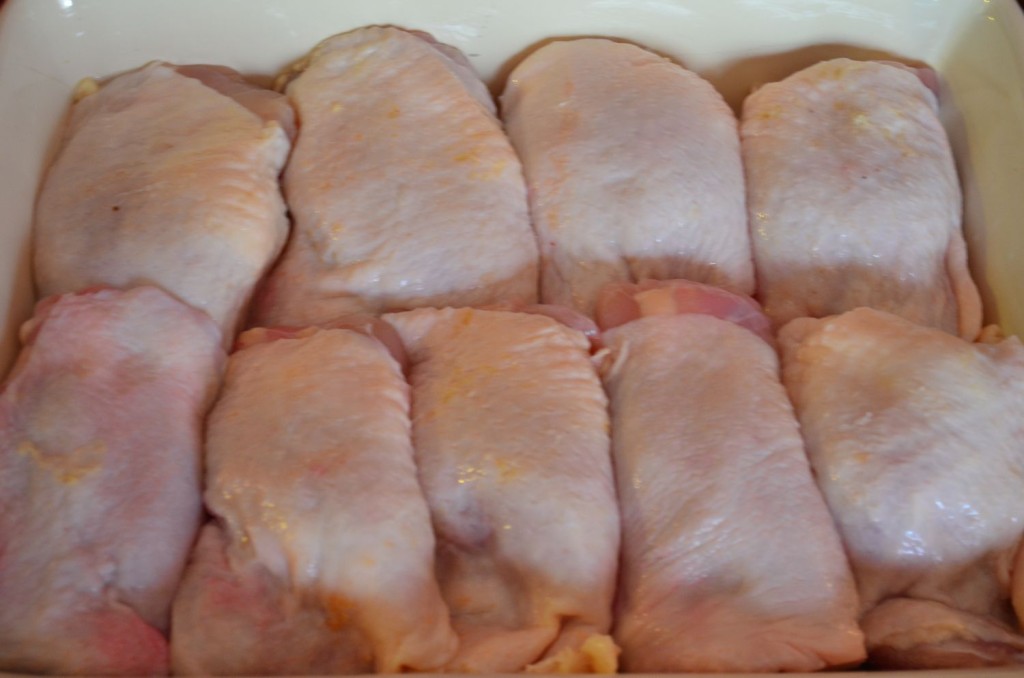 Just add the chicken to a casserole dish. I used all thighs because you get a bit more meat with them. You can do this with legs also but I would highly suggest to make sure you use on the bone chicken. Breast are great but not for this dish.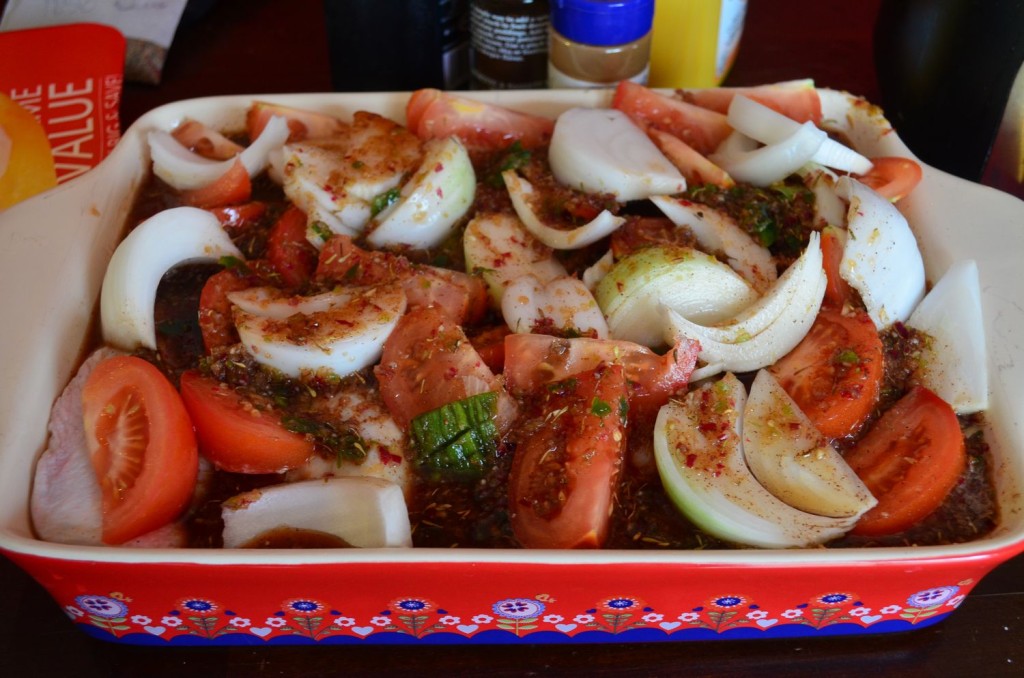 Layer the quartered tomatoes and onions over the chicken. Pour the sauce over the tomatoes and chicken evenly. I had to switch dishes just to give room for the chickens juices that will release when it bakes in the oven.
I love to serve this with pineapple, black beans and white rice or simply just red beans and rice. Here's a closer look at the pretty spices and sauce.
Make sure to add some tomatoes and onions to the plate with juices when serving this dish up. Caribbean Chicken is delicious with the chicken pulled from the bone and combined with a little tomato and onion on your fork. The mess of the two is delectable. Here's the recipe for Jess and the rest of you!
Caribbean Chicken
Cook Time:
1 hour
20 minutes
Total Time:
1 hour
40 minutes
Ingredients
1 large package of chicken thighs or legs
2 tablespoons thyme
1 medium onion;quartered
3 large vine ripe tomatoes; quartered
1 cup brown sugar
1 teaspoon ground cinnamon
4 cloves garlic; diced
1 teaspoon nutmeg
1 teaspoon fresh ginger; minced
4 tablespoons soy sauce
1 jalapeno; deseeded and remove ribbing
2 limes; juiced
1 cup orange juice
2 tablespoons cider vinegar
Salt and cracked black pepper
Instructions
Preheat oven to 400 degrees F.
In a large casserole dish wash and layer chicken thighs. Top chicken with quartered tomatoes and onion. Set aside.
In a food processor add in thyme, brown sugar, garlic, jalapeno, cinnamon, nutmeg, ginger, and soy sauce. Add juice from limes, orange juice, and cider vinegar. Blend well.
Pour mixture over chicken, tomatoes, and onion. Top with salt and pepper. Marinate for four hours if you can in the refrigerator.
Cover with foil and place in oven to bake for an hour and a half until chicken is cooked thoroughly. Served with tomatoes, onions, and rice.
Nutrition Information:
Yield:

6
Serving Size:

1
Amount Per Serving:
Calories:

226
Total Fat:

4g
Saturated Fat:

1g
Trans Fat:

0g
Unsaturated Fat:

2g
Cholesterol:

28mg
Sodium:

734mg
Carbohydrates:

44g
Fiber:

3g
Sugar:

37g
Protein:

8g
For more on our nutrition disclaimer https://mooshujenne.com/nutrition-disclaimer/
Pin Caribbean Chicken: