Blueberry Lemon Balsamic Dressing
This post may contain affiliate links. Please read my privacy policy.
Jo passed along  three great balsamic's to taste and one will be featured here today with along with a giveaway of my favorite of the three. Blueberry lemon balsamic dressing made with fresh lemons, blueberries, blueberry balsamic vinegar from Devo olive oils, and a tad of honey.
Summer Dressing
With the official day of summer starting tomorrow, although we have summer weather now, the need to unearth some fruit friendly recipes is here. The lovely Sundi
Today, the plan is to share with you a dressing made with Devo Olive Oils  Blueberry Balsamic Vinegar.  I will also be giving away a 200 ml bottle of the blueberry balsamic vinegar below!  
Though first it would be great to share with you how to best pair this recipe with a dish along with the recipe too.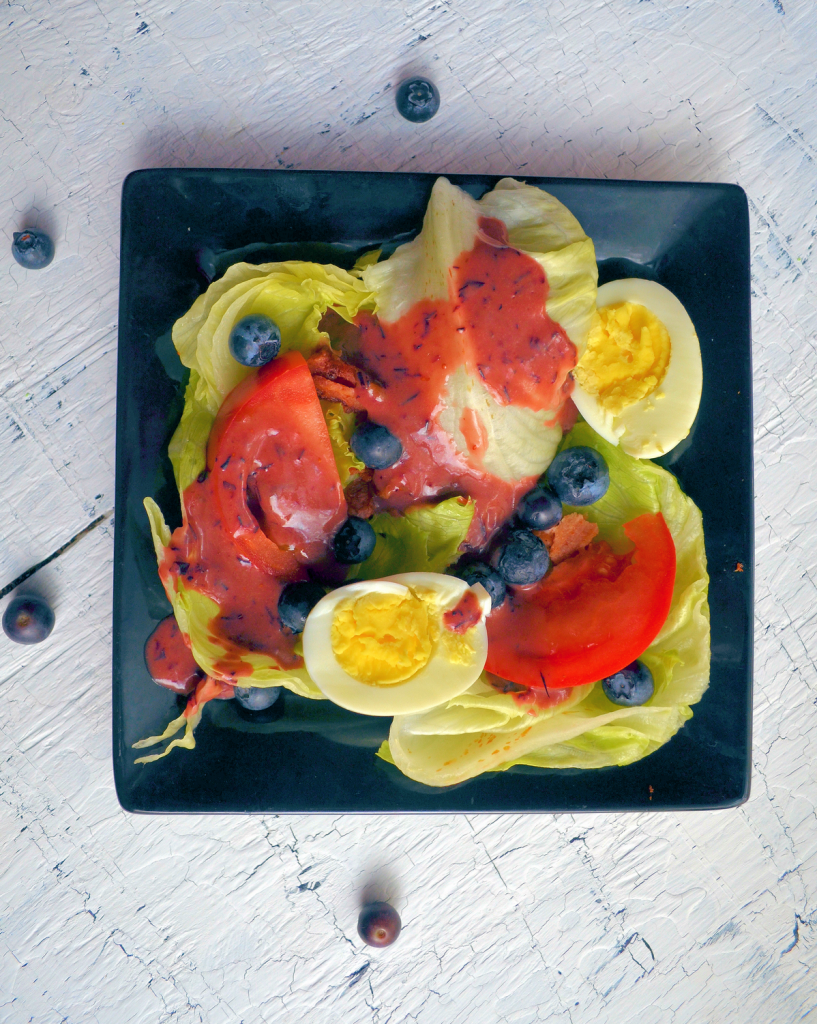 Love to pair this recipe with boiled eggs, fresh blueberries, and. tomatoes. Even bacon cut bites, and if there is a chance fried chicken chucks. This dressing is simple and can be used for more then just salads.
It is great over meat after it is cooked. Another fabulous way to use this dressing is over onions, cucumbers, and blueberries. Great side dish or perfect addition to a picnic. Drizzle it over a honey ham sandwich for wicked flavor!
Here is the recipe for dressing. You can always simply add yogurt to this dressing for thickness.
Blueberry Lemon Balsamic Dressing
Ingredients
2 packages of Blueberries
3 lemons; juiced
1 cup blueberry balsamic vinegar (Devo Olive Olis)
2 tablespoons olive oil
1 tablespoon honey
Water; if needed to thin dressing or yogurt to thicken dressing
Instructions
Cut lemons in half and juice with hand juicer. Set juice aside.
In a blender or food processor, add in blueberries, blueberry balsamic, and lemon juice. Blend until for about one to two minutes. Add in the two tablespoons of olive oil and the one tablespoon of honey. Blend again for about 30 seconds. If you would like a thin dressing add a few tablespoons of water. If you would like a thicker dressing add ¼ to ½ cup of yogurt.
Nutrition Information:
Yield:

6
Serving Size:

1
Amount Per Serving:
Calories:

140
Total Fat:

10g
Saturated Fat:

2g
Trans Fat:

0g
Unsaturated Fat:

7g
Cholesterol:

4mg
Sodium:

113mg
Carbohydrates:

13g
Fiber:

2g
Sugar:

9g
Protein:

2g
For more on our nutrition disclaimer https://mooshujenne.com/nutrition-disclaimer/
Pin Blueberry Lemon Balsamic Dressing: