This post may contain affiliate links. Please read my privacy policy.
We are now 10 days to Halloween! These Pumpkin Pie Bars are so divine and perfect for Halloween or Fall. I love to make these to serve up for the holiday.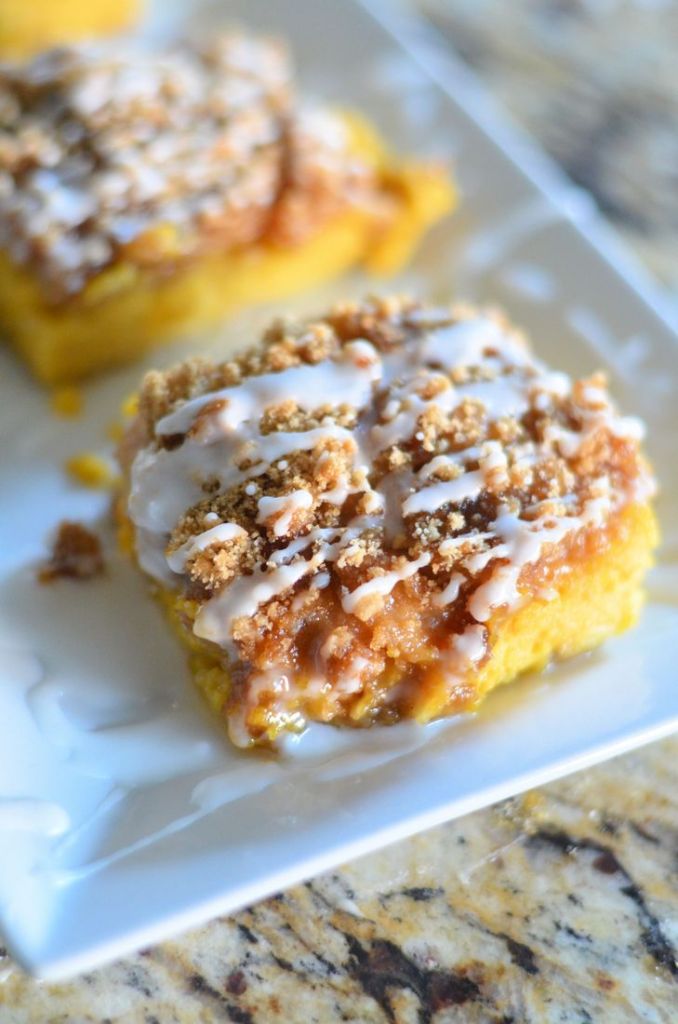 Anyone of these recipes from this Apples & Pumpkins Galore round up I would make for her if she was closer to me. In honor of her birthday though I made Pumpkin Pie Bars.
They are simple. They take about an hour to put together and as you see below they come out pretty. Just drizzle a bit of icing, add a candle, and serve!
Do you have a go to recipe for birthday's? Or maybe you have one for this time of year you like to share at a pot luck, Halloween gathering, or an Apples & Pumpkins Galore party like I am having here.
If you do I would love to hear about it in the comments below. The more recipes the more I get inspired to create awesome new recipes.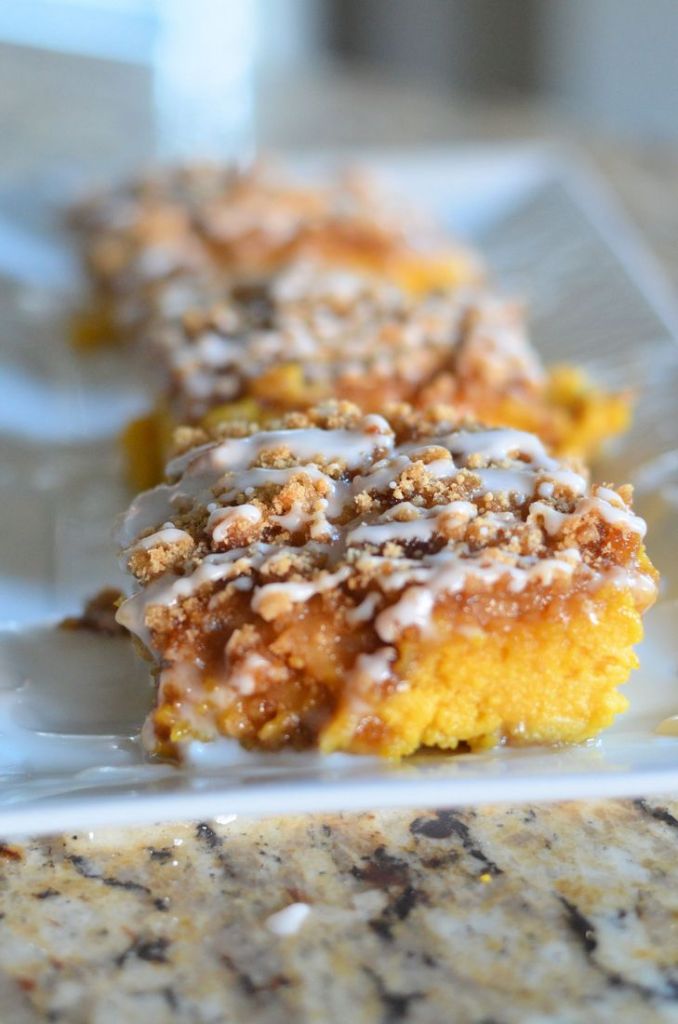 And now for my recipe for Pumpkin Pie Bars.
Pumpkin Pie Bars
Total Time:
1 hour
20 minutes
Pumpkin Pie Bars are made with fresh pumpkin with a sweet streusel topping.
Ingredients
FOR PUMPKIN PIE CENTER
2⅓ cups fresh pumpkin puree (or canned)
½ teaspoon cinnamon
½ teaspoon ginger
4 eggs
½ cup sour cream
½ cup white granulated sugar
1 tablespoon vegetable oil
½ cup brown sugar
½ teaspoon salt
1 teaspoon vanilla extract
FOR CRUST & BOTTOM
1½ cup all purpose flour
1½ cup brown sugar
4 tablespoons margarine
FOR ICING
½ cup powdered confectioner's sugar
2 tablespoons water
Instructions
In a medium size bowl, add in ¾ cup flour. ¾ cup brown sugar, and 2 tablespoons butter. Sift with a fork until it is mixed well and resembles a streusel topping crumble.
In a glass baking dish, place 1 tablespoon vegetable oil and rub around with a paper towel. Press in mixture to a flat surface. Bake for 15 minutes at 350 F.
In a large bowl, add in pumpkin, sour cream, cinnamon, ginger, vanilla and salt. Whisk well. Add in four eggs and mix well. Stirring slowly add in the brown sugar. Stirring slowly add in the white sugar. Be sure to have no lumps. Pour mixture on top of the cooked crust. Bake for 15 minutes at 350 F.
Meanwhile, repeat the crust process above. After the 15 minutes sprinkle the mixture over the pumpkin layer. Bake for 25 minutes at 375 F.
In a small bowl add in water and powdered sugar. Whisk well until the mixture is a cream thick icing. Use more sugar if the mixture is too runny.
Pull pumpkin pie bars from the oven and let cool for one hour on counter until completely cool. Place in refrigerator for one hour. Once cold pull from refrigerator and top with icing by drizzling it over with a spoon.
Notes
Serve with vanilla ice cream for a perfect fall treat.
Nutrition Information:
Yield:

12
Serving Size:

1
Amount Per Serving:
Calories:

327
Total Fat:

9g
Saturated Fat:

2g
Trans Fat:

1g
Unsaturated Fat:

6g
Cholesterol:

68mg
Sodium:

126mg
Carbohydrates:

59g
Fiber:

2g
Sugar:

44g
Protein:

5g
For more on our nutrition disclaimer https://mooshujenne.com/nutrition-disclaimer/
Looking for a good recipe to share this time of year? If so, don't miss out on the list below. We have savory and sweet apple and pumpkin recipes listed below! Stop by these other blogs for some wonderful seasonal foods to bake or just to inspire you for a good dinner.
Apples & Pumpkins Galore – Fall Round Up
Sweet:

Savory:
Pin Pumpkin Pie Bars