22 Recipes For National Meatball Day
This post may contain affiliate links. Please read my privacy policy.
Who knows who started National Meatball Day but were glad for whomever did. Who can resist the idea of celebrating National Meatball Day! To celebrate try one of these 22 Recipes for National Meatball Day.
Instant Pot Pepper Beef Meatballs – Mooshu Jenne
Sometimes dinner just needs to be super easy and budget friendly. Instant Pot Pepper Beef Meatballs is the perfect instant pot easy meal on a budget.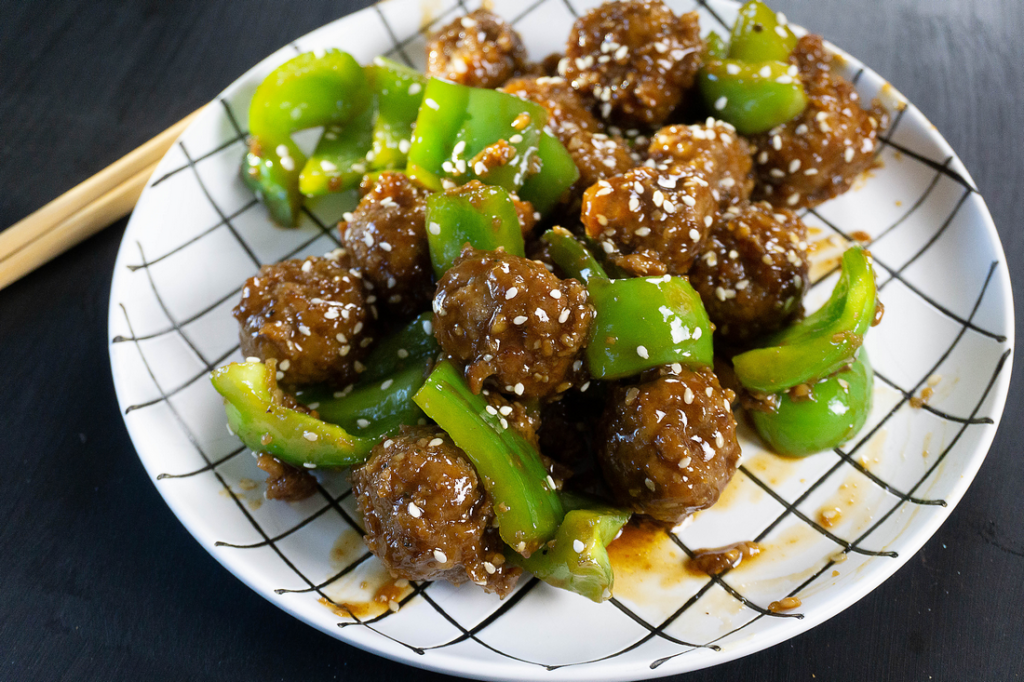 Frikadeller Danish Meatballs – FabFood4all.co.uk
Frikadeller can either be eaten cold with potato salad or hot with boiled potatoes, red cabbage, and gravy.
Mini Indian Meatballs with Curry Coconut Sauce – Culinary Ginger
Mini Indian Meatballs with Curry Coconut Sauce make the best appetizer or party dish because everyone loves Indian food. 
Skillet Chicken Parmesan Meatballs – Belly Full
Chicken Parmesan Meatball Skillet is your favorite Chicken Parmesan, but in meatball form. Serve with a simple side salad for a delicious complete dinner! '
Are You Enjoying The Meatballs So Far?
Slow Cooker Pork and Apple Meatballs – Slow Cooker Club
These slow cooker pork and apple meatballs are no exception. Super tasty and incredibly moreish – I challenge you not to go back for a second portion!
Keftedes Meatballs – Kopiaste
Keftedes (pr. kehf-TEH-dhes) are juicy Greek meatballs and each family has its own recipe, depending on which part of the country they come from.    They are the star of every party.
Chiftele – Romanian Meatballs – Venturists
These traditional Romanian meatballs, called chiftele, are pretty unique, as well as being absolutely delicious. Most cuisines have their own version of ground meat rolled into a ball, but there are many regional differences in meatballs
Don't All These Meatballs Look Delicious?
Greek Meatballs – This Mom's Menu
Enjoy these tasty Greek Meatballs with Taztziki Sauce as a stand alone meal, over a bed of zoodles sprinkled with some crumbled feta cheese or share them as an appetizer at parties.
Sticky, Sweet and Spicy Asian Meatballs
Serve these sticky, spicy Asian meatballs, glazed with sriracha and honey, over rice or noodles for an easy weeknight dinner, or by themselves for a crowd-pleasing party appetizer.
Cranberry Meatballs – Accidental Happy Baker
The secret is in the sauce for these juicy and flavorful cranberry meatballs. Sweet and tangy with just a bit of heat, these meatballs are one of the easiest and most forgiving recipes you'll ever make and perfect for any party!
What Meatballs Do You Plan To Try?
Crawfish Balls – This Ole Mom
These Crawfish Balls are chock full of crawfish and deep fried to a golden brown perfection. They taste delicious and are spicy and flavorful. 
Cheesy Garlic Stuff Meatballs – The Awesome Muse
I dare you to read this recipe for Cheesy Garlic Stuffed Meatballs without wanting to make some immediately. If you are anything like me, you simply can't do it.
Spicy Nduja Meatballs – Hedge Combers
If you like a kick to your food, these Spicy N'duja Meatballs are gonna knock your socks right off!
Do You Have A Favorite Meatball On This List?
French Onion Stuffed Meatballs – Cupcakes and Kale Chips
French Onion Cheese Stuffed Meatballs has everything you love about the classic French Onion Soup Au Gratin recipe in a hearty meal to satisfy any appetite.
Vension Meatballs – Greedy Gourmet
Think of these venison meatballs as the ultimate meatball recipe that you should master for the future! Who can resist rich and juicy venison meatballs with a lovely glaze that consists of wine, port and berry jam?
German Meatballs – Kudos Kitchen By Renee
Hearty German Meatballs with Caraway Mushroom Cream Sauce. It's a delicious comfort-food recipe, with a German twist.
Tried One Of These Recipes? Share A Comment Below.
Greek Lamb Meatballs with Tzatziki Sauce – Whip and Wander
Greek Lamb Meatballs with Tzatziki Sauce are pan-cooked quickly on the stove top, rather than baked. For instance making them a much preferable option for me when the temperatures start to rise.
Sopa De Albondigas – A Taste For Travel
This hearty meatball soup — sopa de albóndigas — is popular as a midday meal in Guatemala, Mexico, El Salvador and with everyone who tastes it!
Vietnamese Meatball Banh Mi – Delightful Plate
This Vietnamese Meatball Banh Mi (Banh Mi Xiu Mai) makes a delicious and filling breakfast or main meal. The pork meatballs are served with a flavorful tomato sauce and crispy banh mi (Vietnamese baguette).

Don't Forget To Visit The Other Sites!
Baked Peruvian Meatballs – Beyond Mere Sustenance
Baked Peruvian Style Meatballs pack a flavorful punch with cilantro, cumin, and aji amarillo
Taco Meatballs – Two Sleevers
These naturally low carb, gluten-free Taco Meatballs are absolutely bursting with taco flavor.
Ham Balls – Mom's Dinner
Ham Balls are a classic Midwestern meatball recipe. It is even more specific to Iowa and Nebraska. Secondly, it is an unusual recipe that turns out so incredibly delicious.
We hope you find a wonderful and tasty meatball recipe to make at home. Meatballs don't have to be the typical basic beef meatball. Meatballs come in many different ethnic flavors and traditions to go along with them. Try a recipe or three!
Pictures are copyright of the original blog owners. Please do not copy these pictures without permission of each blogger. Thanks! Happy Eating!
Pin These 22 Recipes For National Meatball Day